Everything tastes the best at home
Restaurant "zur Fabrik"
Have your adventures in Austria's capital made you hungry?
In the restaurant "zur Fabrik", fresh, high-quality products from the region are prepared into delicious treats and mouth-watering Viennese specialties. The traditional Viennese tavern also offers a fine selection of vegetarian dishes and exquisite Austrians wines and beers.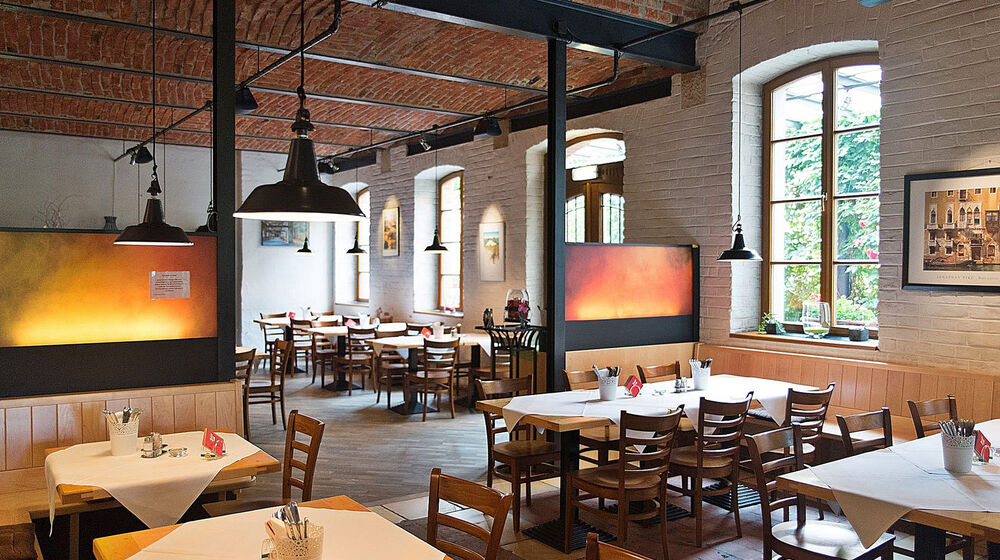 Mon – Fri
11:00 am to 11:00 pm
Warm food
from 11:30 am to 2:30 pm and from 6:00 to 10:00 pm
Closed on Saturday, Sunday, & holidays
Bring your day of adventure in Vienna to an end with a good conversation! Along with culinary delicacies, you can also meet many interesting people from all around the world in the restaurant "zur Fabrik" - including many locals who value the authenticity and hospitality of the restaurant. The cozy restaurant is also perfect for a romantic dinner for two as well as celebrations with the whole family, friends, or work colleagues.
In the garden...
During the warm seasons of the year, the guest garden in the inner courtyard of the old factory is a refreshing highlight! The greenery, shady spots, and wonderful quiet make this outdoor area of our restaurant an unforgettable oasis right in the middle of Vienna. In the fresh air, the delicious creations from the kitchen taste even better, and nothing stands in the way of a relaxed summer evening!
Fresh breakfast with good selection
Andrea J., Tripadvisor
The breakfast is lavish, diverse,
and always freshly made.
Angela K., Tripadvisor
The breakfast buffet is definitely worth mentioning
including the very friendly and attentive staff
and fresh egg dishes prepared according to your wishes.
Felix Z., Tripadvisor
The breakfast buffet is a super start to the day.
Dorothee, Holidaycheck